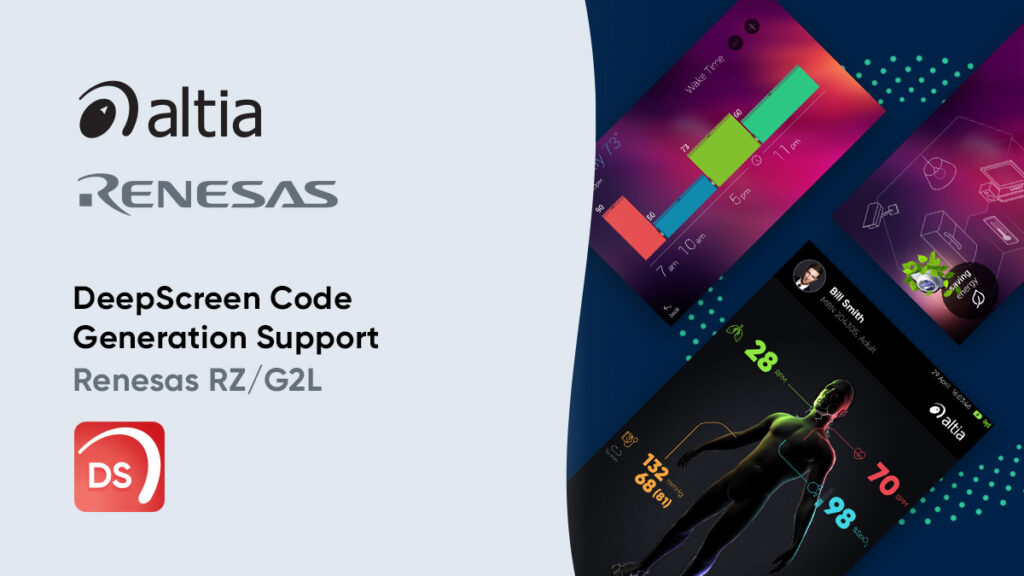 Altia announced today that DeepScreen code generation support is now available for Renesas RZ/G2L microprocessors (MPUs). For companies developing products like home security devices, point-of-sale (POS) terminals, home appliances and medical devices using the Renesas RZ/G2L, Altia offers a powerful solution for creating beautiful, branded embedded displays quickly and efficiently.
The RZ/G2L MPU includes a Cortex®-A55 (1.2 GHz) CPU, 16-bit DDR3L / DDR4 interface, 3D graphics engine with Arm Mali-G31 and video codec (H.264). This MPU also has many interfaces such as camera input, display output, USB 2.0 and Gigabit Ethernet, making it ideal for applications such as entry-class graphical user interfaces (GUIs) and embedded devices with video capabilities.
Altia's graphical user interface software includes an advanced embedded GUI editor and graphics code generator for creating high impact GUIs for production hardware like the Renesas RZ/G2L. The Altia tool suite enables designers to leverage artwork from all popular 2D and 3D graphics tools. Developers can leverage these graphics to create a full-featured GUI model. With Altia's state-of-the-art workflow, developers can do quick, easy iterations of those models to test with users and refine the user experience of the GUI—providing a perfected GUI model for code generation.
Altia DeepScreen then generates production-ready C source code tailored to the Renesas RZ/G2L board, taking advantage of the full array of features on chip to deliver best performance and smallest memory footprint. Altia's scalable GUI software solution also supports a variety of low- to high-power Renesas products for this market segment beyond the RZ/G2L, including Synergy S5/S7, RX600, SH7268/9 and RZ/A.
"Renesas is committed to meeting the needs of our industrial and home appliance customers with innovative silicon technology and full solutions – and we are achieving that with the RZ/G2L MPU," said TJ Mueller, Product Marketing and Business Development at Renesas Electronics America. "Altia provides a finely tuned solution for developing best-in-class user interfaces on the RZ/G2L such as advanced 3D interfaces to enable powerful display and video capabilities for systems that require HMI and seamless graphical interaction."
"We are delighted to be working together with Renesas to extend GUI code generation support to the Renesas RZ/G2L. For companies deploying embedded GUIs for this Renesas MPU, Altia enables their designers with a full-featured toolset to create custom graphics and then deploy pure C code that easily certified and highly performant," states Jeffrey Urkevich, Altia Director of Product Marketing.
For developers interested in downloading a GUI model for the Renesas RZ/G2L board, visit the Altia DeepScreen for RZ-G2L product page.
About Altia
Altia is a software company that provides graphical user interface design and development tools that can be used from concept to final product code. Our GUI editor, Altia Design, offers development teams the capability to implement a model-based development process for clear communication and accelerated user interface development. Our code generator, Altia DeepScreen, supports a vast range of low- to high-powered processors from a variety of industry-leading silicon providers. Altia generates pure C source code that is optimized to take full advantage of hardware resources. Graphics code generated by Altia is driving millions of displays worldwide – from automotive instrument clusters, HUDs and radios to thermostats, washing machines and healthcare monitors. Our mission is to get the best automotive, medical and consumer interfaces into production in the shortest time on the lowest cost hardware.
Altia was founded in 1991. Our customers include companies developing devices for automotive, medical, home appliance, consumer applications and beyond. For more information about Altia, visit www.altia.com or email [email protected].